Maintaining your car, truck, or SUV with timely repairs is an easy way to ensure that your vehicle will last longer and run much more smoothly than an unmaintained car. Once you let a few small issues build up, you are setting yourself up for an expensive trip to your auto shop. 
Instead of allowing these problems to go unresolved, bring your car into Whitten Brothers of Ashland as soon as something goes wrong. Our team will perform a complete inspection, making sure every inch of your car is checked for any potential issues that may arise in the future. The expert mechanics at Whitten run down a comprehensive checklist, and will return your car to you quickly, and in near original condition.
The professionals at Whitten Brothers are proud to bring you only the best in both car repair and customer service at their Service Center.  This auto service center was founded in 1920 as a Service & Tire Shop on an unpaved road now known as Broad Street.  Back then, repairs were limited to just oil changes and replacing tires. Since that time, we have continued to grow into one of the most respected auto dealerships and service centers in Richmond. 
Although we have grown to a full service shop, we still maintain the standards we held back in 1920. Our staff works hard to bring you excellent service and only the highest-quality parts. Whitten Brothers of Ashland has several departments for your convenience, including a Mopar Certified Express Lane, Tire Center, Rental Department, Shuttle Service, and Full Detail Department. 
Whitten Brothers is proud to be the largest Chrysler Certified Service Center in the area. We have 34 certified technicians with over 600 years of combined experience.  The Detail Department at Whitten Brothers has been operational for over 65 years, and we have many service technicians who have been with us for more than 20 years. With an experienced staff and friendly customer service, Whitten Brothers is proud to be a top automotive dealership in the Richmond area.
You may have many options for deciding where to get your vehicle serviced and repaired, but none bring you the experience and satisfaction that Whitten Brothers is known for. We have the knowledge and experience to ensure that you and your vehicle are provided the best service possible. We deliver comprehensive maintenance and repair at reasonable prices. 
Questions about the services we provide? Here is a list of some of the common services performed at Whitten Brothers Service Center:
Air Filter Replacement & Routine Tune-Ups
Although it may seem like unnecessary maintenance for your vehicle, replacing the air filter periodically is actually a good way to increase fuel economy. The air filter keeps bugs and dust from getting into the engine and also reduces emissions that may be harmful to the environment. Replacing the air filter will keep the engine's internal components clean and lessen typical wear and tear on the car over time. 
Over time, the parts in your car can loosen due to buildup or small bits of dust. This will cause fluids to leak internally, and these fluids can corrode engine parts. When you come to Whitten Brothers for a routine vehicle tune-up, the mechanics will remove this buildup. This routine cleaning will help every part that has been affected by leaks, including the intake valves, combustion chambers, and fuel injectors. Performing these simple maintenance steps will make your car run smoother and in like-new shape for longer.
Oil Change
When you think of common automotive services, oil changes are probably the first thing that comes to mind. Depending on your vehicle, it is usually suggested that your car get an oil change every 3,000-10,000 miles. To determine when to change the oil in your car, check the owner's manual. 
The oil provides lubrication to your vehicle's engine and prevents these internal parts from wearing out. Routine oil changes will prevent costly repairs and keep your engine working smoothly. Performing this simple and inexpensive service when suggested is an easy way to ensure that your car is in top condition.
Alignment
Maintain high safety standards in your car by getting the alignment checked routinely. When you hit potholes, bump curbs, or even go years without tuning up the alignment, it can be compromised. If you feel your steering wheel pull to one side while driving or if the wheel is vibrating, you may need to have your alignment adjusted.
When you bring your car in for tune-ups, ask for the alignment to be checked. This service is an easy way to save on costly maintenance issues that may arise in the future. Realignment can also prevent accidents caused by poor steering control.
Proper alignment not only saves you money, it can make your car more fuel-efficient. Experts recommend checking the alignment on your car every time you bring your car in for an oil change.
Wiper Blade Replacement
Replacing the windshield wiper blades on your car is an overlooked repair that can cause future problems. Driving in inclement weather is a common cause of accidents. Wiper blades will increase your visibility, helping prevent probable accidents and giving you an overall safer vehicle in rain, snow, or sleet. If you see smears when you use your wiper blades, you are probably due for a change. Ask your service technician about replacing your blades during your next maintenance appointment to see if your wipers are still working effectively. 
Brake Fluid Exchange
Taking care of the brake system in your car is one of the most important safety factors in the upkeep of any vehicle. The brake fluid in your car easily absorbs moisture and air. Although this is a slow process, over time this absorption will make brake system failure more probable. Changing the brake fluid helps extend the life of the braking system and increases the stopping distance in your vehicle. Clean brake fluid also helps prevent corrosion in the brake line, helping the lines last longer.
Coolant Flush & Replacement
A car engine functions by maintaining a controlled yet explosive reaction. To work properly, a narrow temperate range must be maintained inside the engine. If it is hot or cold outside, the temperature of the engine can fluctuate outside the acceptable range. The coolant helps keep that zone constant and prevents the engine from getting too hot or cold.
Like brake fluid, coolant can collect dust and water over time, becoming less effective in working to maintain a temperature zone in your engine. Changing it at the recommended intervals outlined in your owner's manual will help your engine run longer.
If you are unsure about the last time your coolant was changed, ask your Whitten Brothers maintenance expert for a full diagnostic report during your next scheduled tune-up.
Transmission Fluid Exchange
Transmission fluid acts as a lubricant for the gears and moving parts inside of your transmission. This fluid allows you to shift gears smoothly without causing damage to the gear teeth. Clean transmission fluid aids in extending the life of the entire transmission system by reducing sludge and debris buildup. By increasing fluid flow and lubricating the transmission parts, clean transmission fluid allows for a better driving experience. Refer to your owner's manual or speak with a Whitten Brothers automotive expert to determine how often a transmission fluid exchange should be performed.
Power Steering Fluid Exchange
Almost all cars use power steering fluid, which allows the steering wheel to be turned without using a large amount of force. Changing the power steering fluid when recommended eliminates buildup from the steering system and lets you easily turn your steering wheel. Over time, your steering system acquires a buildup of dirt and even small traces of metal particles, which can lead to steering system failure.  Changing the power steering fluid prevents these parts from wearing down and also gives you more control of the steering wheel.
Fuel Induction Service
Your car's engine uses fuel to run, which leads to the buildup of carbon deposits over time. Speak to the Whitten Brothers of Ashland service department about a fuel induction service, which will clear out carbon deposits and increase your car's fuel economy. This service will also help reduce carbon emissions, which can be detrimental to the environment. A regular fuel induction can also improve the throttle response. Not sure if your car needs this service? Shaking while idle or low fuel efficiency are common signs that a fuel induction service could benefit your vehicle.
Tire Replacement & Rotation
The links between the road and your car, tires are an important factor in maintaining a safe vehicle. Worn treads and low pressure in tires can compromise those links, making your vehicle unsafe, especially in inclement weather. Routine replacement and rotation gives the tires a longer life and will cost you less in the long run. In addition, consider purchasing winter tires. They are specifically designed for severe weather and colder temperatures. Replacing tires when recommended can keep the links secure between tires and road, as well as preventing dangerous blowouts and inconvenient flat tires.
In addition to these routine repairs provided by Whitten Brothers of Ashland, we provide a multitude of other auto repair services and even complete auto bodywork. Whitten Brothers Service Center gives you comprehensive auto care at a competitive rate. Look at the charts provided below to compare our pricing with other local and independent automotive repair shops.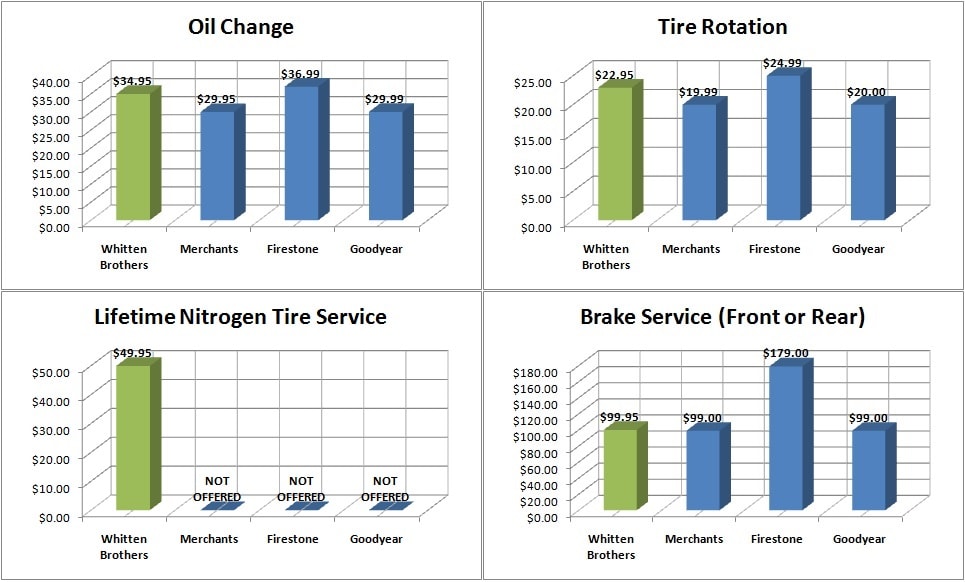 * Oil change prices are based on a 5 quart standard oil and filter change.
* Find out more about our Lifetime Nitrogen Tire Service by watching this video: