Back Packs of Love
The mission of Backpacks of Love is to eliminate hunger in school-age boys and girls in Central Virginia by providing food for their weekends.
Imagine leaving school on Friday and not having another meal until returning to school on Monday. That's the reality for a growing number of hungry children in the communities we serve. The backpacks often provide food not only for the kids in the program, but their siblings as well.
Here at Whitten Brothers, we are dedicated to this cause, which is why for every test drive you take, we will donate a backpack.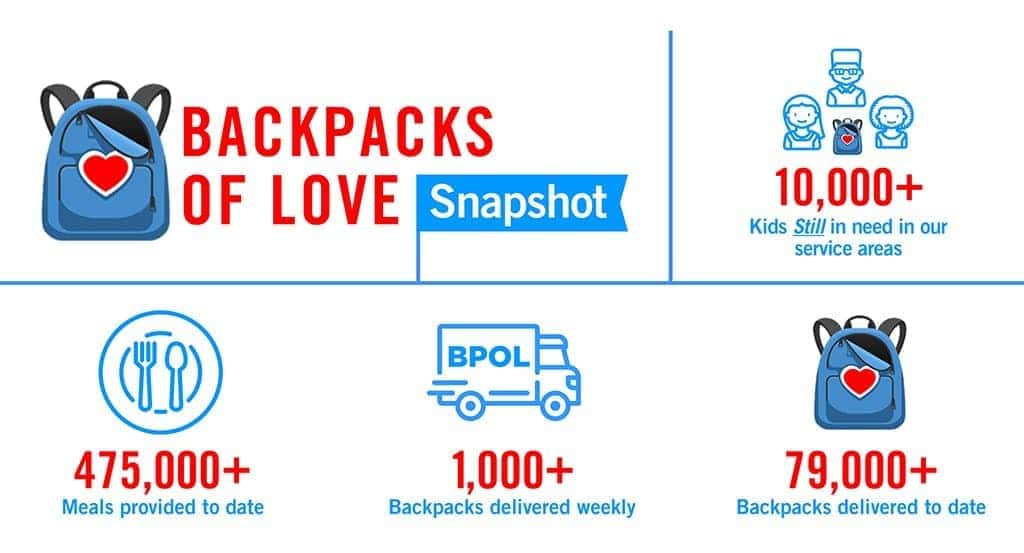 Since its inception in 2011, BPOL has distributed over 79,000 backpacks, which equates to nearly 475,000 meals provided to children in Powhatan, Buckingham Cumberland, and Chesterfield Counties. BPOL currently delivers over 1000 backpacks weekly throughout these communities. This fall, BPOL will begin began backpacks delivery to select schools in Amelia and Goochland Counties, with plans to expand to more Counties in Central Virginia for the 2017/2018 School year!
BPOL can only achieve these goals through the generous donations of our community, and hopes that you will support our efforts.
Our Goal is for 100% of our net fundraising and monetary donations to go directly to purchasing food and supplies for the students' backpacks.